Flexion-Distraction Therapy
Flexion Distraction Therapy - Chiropractors Near Me
[Published on May 19, 2016]
Flexion-Distraction is non-surgical, doctor-controlled, hands-on spinal manipulation performed with the patient lying on a Hill Air Flex F-n-D Chiropractic Table which permits effective administration of passive spinal manipulation as well as decompression of the intervertebral discs.
Flexion-distraction therapy is a non-surgical chiropractic technique that utilizes a multi-function table that enables the chiropractor to combine decompression with other gentle non-force spinal adjustment techniques. Flexion-distraction is well suited for patients who need a lighter touch, such as patients recovering from spinal surgery, currently undergoing rehabilitation, or those with osteoporosis or of an advanced age.
Flexion-distraction therapy is well researched and is an effective intervention for:
Reducing pressure on the spinal nerve(s) from a disc bulge or herniation
Pain and disability among patients with lumbar spinal stenosis
Increasing spinal motion within the disc and spinal joints
A conservative option to surgery for herniated discs
Reducing symptoms of sciatica
Improving posture
This therapeutic intervention utilizes a specialized table that gently stretches the spine and, in effect, becomes an extension of the chiropractor's hands, applying both decompression and movement of a joint(s) through a range of motions. The gentle pumping rhythm used creates negative pressure inside the disc creating a vacuum that sucks the gelatinous fluid back in. As the nucleus pulposus (vertebral disc's jelly-like filling) re-attains its central position, pressure is taken off of the involved spinal nerve, reducing inflammation, and subsequently relieving the associated back and/or leg pain related to vertebral disc displacement.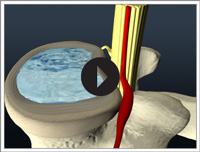 Graphic Animation of Cox Technic - Lumbar Spine [
Published on Jan 12, 2016]
This is an animation of the goal of Cox Technic Flexion-Distraction and Decompression: reduced irritation of spinal elements enough to relieve pain and help you regain your quality of life. The amount of decrease in size of the herniated disc necessary for pain relief varies from 0% to 100% for each individual patient.
Chiropractors have been using flexion-distraction for several years to manage a variety of conditions and assist patients in overcoming ongoing pain management, discomfort, temporary disability, and/or the need for spinal surgery.
Conditions that may benefit from flexion-distraction therapy:
Arthritis
Ankylosing spondylitis
Degenerative disc disease
Failed back surgery syndrome
General lower back stiffness associated with osteoarthritis and spinal stenosis
Scoliosis
Sacroiliac syndrome
Spondylolisthesis
Sprain/Strain
Spinal stenosis (narrowing of the spinal canal)