Neck Pain Research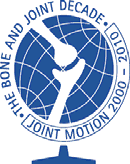 Endorsed by the United Nations on 30 November 1999 and officially launched on 13 January 2000 at the headquarters of the World Health Organization in Geneva, Switzerland the Bone and Joint Decade (BJD) is an international group of healthcare professionals that address the substantial effect that bone and joint disorders have on society, the healthcare system, and the individual. The goal of the BJD is to "improve the health- related quality of life for people with musculoskeletal disorders throughout the world by raising awareness and promoting positive actions to combat the suffering and costs to society associated with musculoskeletal disorders".1 This patient centered organization's motivation has been the establishment of initiatives capable of delivering best-evidence multi-disciplinary healthcare on a global scale.
This focus was evident with establishment of The Task Force on Neck Pain and Its Associated Disorders in 2000. This fifty (50) member Task Force, with members from nine (9) countries, and representing nineteen (19) clinical and scientific disciplines/specialties was mandated with the task of publishing a report outlining the best current evidence regarding the risk and prognosis of neck pain, its assessment/diagnosis, and the effectiveness and safety of invasive and non-invasive treatment methods for neck pain. During this process they were to also identify problems with the current literature so that future studies could be developed. The goal of this seven year project was to empower the public, especially individuals who suffer from neck pain or at risk of developing it. This collaborative effort that included eight (8) universities in four (4) countries and eleven (11) professional organizations who were nonfinancial sponsors produced a document that has changed approaches and views regarding neck pain as well as its prevention, diagnosis, treatment, and management.2
Below is the roster of the 13-member Scientific Secretariat who conducted the screening process of 31,878 research citations on neck pain of which 1,203 articles were found to be relevant. 46% (552) of those were found to be "scientifically admissible" for utilization in this synthesis of best-evidence. Aside from this, various other members of the Task Force also conducted four (4) original research projects during its seven year tenure, two that examined vertebrobasilar stroke, one that compared the outcomes of various forms of neck pain treatment, and another that examined work absenteeism due to neck pain.
As Primary Spine Practitioners, the doctors at Life in Motion Chiropractic and Wellness have found this study to be an invaluable guideline for providing our patients with or triaging them to the most effective treatment available for their neck pain.
Eugene J. Carragee, MD, FACS
Linda Carroll, PhD
J. David Cassidy, DC, PhD, DrMedSc
Pierre Côté, DC, PhD
Stephen W. Greenhalgh, MA, MLIS
Jaime Guzman, MD, MSc, FRCP(C)
Scott Haldeman, DC, MD, PhD, FRCP(C)
Sheilah Hogg-Johnson, PhD
Lena Holm, DrMedSc
Eric L. Hurwitz, DC, PhD
Margareta Nordin, PT, DrMedSc, CIE
Paul Peloso, MD, MSc, FRCP(C)
Gabrielle van der Velde, DC, PhD (Candidate)
"In other words, one finds much more information than any individual clinician would be able to find, download, print, read, and digest/assimilate should he/she be devoted to such tasks full-time for years. More specifically, the fact that not only whiplash and nontraumatic disorders but also headaches, arm pain, and generalized symptoms of cervical origin are included in the review is a major strength of this work. Similarly, it's very useful having both nonsurgical and surgical treatments in the same publication. Moreover, grading treatments according to the likelihood of helpfulness; reporting on prognostic factors and using "suspected etiology" to evaluate treatments are some other examples of the clinical orientation and practicality of this report."
Federico Balagué MD
Department of Rheumatology, Physical Medicine and Rehabilitation, Hôpital Fribourgeois – Freiburger Spital Site de Fribourg – Freiburg, Freiburg, Germany
Service de Rhumatologie, Médecine Physique et Rééducation, 1708, Fribourg, Switzerland