Preventing Causes of Neck Pain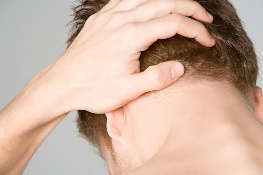 Unlike other aspects of the human body, the neck serves only one purpose, the positioning of the head in space. While this arrangement gives us a better perspective of our surroundings it can also be a harbinger of injury when one's posture is improperly maintained. As the head moves forward of the body its weight, due to the force of gravity, can increase up to 42 pounds placing severe strain on the muscles, tendons, ligaments, and nerves of the neck.
Throughout our lives we've been told to "sit up straight" or "stop slouching" but how many times have you heard "keep that ear lobe lined up with your shoulder", probably never. The body follows the head and if things at the top aren't straight it doesn't take long for things like low back pain, headache, stress related illness, osteoarthritis, and even decreased lung capacity to rear they're ugly heads!
Making some very simple changes in your daily routine is all it takes to stave off an injury that can literally be a pain in the neck:
Office Posture Matters: An Animated Guide
[Published on Dec 03, 2013]
Bad posture is the sneakiest workplace risk there is. Discover the dangers and learn some simple ways to stay healthy during your daily office life in this video!
Sit up straight in your chair with your back supported keeping your head centered over your spine; this allows gravity to work with your neck instead of against it.
Do not sit for long periods without getting up or changing positions. Take short breaks several times each hour to stretch your neck.
If your job requires frequent computer use, have the top of the screen at eye level and use a document holder that puts copy at the same level as the screen.
Utilize a chair with an adjustable seat and arm rests. Position the body so that your buttocks are back as far as possible, adjust the seat so that the hips and knees are maintained at 90°-110°, and adjust the arm rests so that the shoulder can hang naturally and the elbows are 90°-110° to the keyboard or desktop.
If you are on the phone a lot, use a headset or speakerphone.
Stretch and strengthen regularly . Stretching the chest muscles and strengthening the muscles of the back and shoulder blade can promote a balanced base of support for the neck.
Do not sleep on your stomach this places adverse stresses on the curves of the back and neck.
Choose a pillow or pillows that help to support the natural curve of your neck.